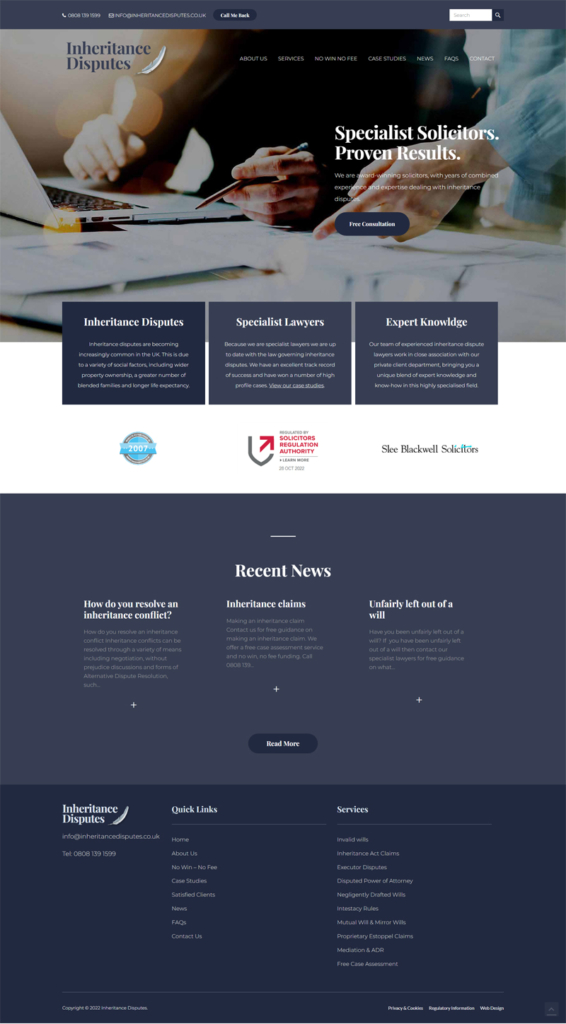 Inheritance Disputes are award-winning solicitors, with years of combined experience and expertise dealing with inheritance disputes.
Content Management System
The website was built using WordPress content management system, which allows the client to update all aspects of the website.
Logo & Web Design
In this highly competitive search market, it is necessary to stand out from competitors, but also instil confidence in the user. The clean, corporate style of the web design and logo help achieve these aims.
Search Engine & Performance Optimisation
The website has been optimised to rank well in a highly competitive search market. It is ranked number 1 for search term 'inheritance disputes' and the same, or in the top 5, for a wide range of related search terms.
Website performance has also been optimised to make the site faster, especially for mobile devices.
Mobile Friendly
Far more people visit this website using a mobile, or tablet device than desktop, as such, the website has been meticulously optimised for mobile devices.